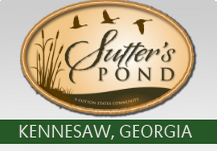 Sutter's Pond by Cotton States Properties Brings Families Closer to Nature
Build it and they will come….famous words from the classic movie "Field of Dreams".  Sutter's Pond was conceived with such a vision.  Built on the former farm of NLB Hall of Famer pitcher, Bruce Sutter, this unique 66 lot conservation community was developed to bring families closer to nature.
Bruce Sutter was on the fringes of professional baseball, a struggling Minor League pitcher with an injured arm, until he received a gift that changed his life forever. A wise, old man of the game taught him a new pitch — a split-fingered fastball — and in a matter of years, Sutter took this new weapon and blazed a trail as one of the game's top relief pitchers. A six-time All-Star, Sutter was the 1979 National League Cy Young Award-winner and was on the mound for the last six outs of the Cardinals' 1982 World Series championship. He saved at least 20 games in nine consecutive seasons and set an NL mark with 45 saves in 1984. The right-hander retired following an arm injury with 300 saves and a 2.84 ERA to his credit. He played for Chicago Cubs (1976-1980), St. Louis Cardinals (1981-1984), Atlanta Braves (1985-1986, 1988) and was elected to the Hall of Fame by Baseball Writers: 2006
Sutter's Pond is comprised of 59 acres of land with large open green spaces, meandering creeks, a 7 acre lake and groves of large hardwood trees, Sutter's Pond truly is a special place.   When designing the community, the streets were built with slight curves thru the rolling hills making the roads seem to fade away leaving only the natural surroundings and the perfect setting for an afternoon stroll.  The pool and amenity area make sure that you have a great place to cool off and enjoy some relaxation time with the family.
When choosing a new home, the school system is of the utmost importance for homebuyers with children.  Homebuyers with children may attend the outstanding Cobb County Schools.  Bullard Elementary, McClure Middle School and Harrison High School with an enviable 10 out of 10 rating.
Another very important decision is location.  Sutter's Pond is located in close proximity to the restaurants and shopping at Town Center Mall.  The property is also close to Lake Acworth, Lake Allatoona and Kennesaw Mountain National Park.  Access to I-75 and I-575 is via Chastain Road.  McCollum Airport is a nearby private aviation airport.
Of course, quality is extremely important!   At Sutter's Pond, the floor plans will feature 4 and 5 bedrooms and 4 bathrooms or 4.5 bathrooms.   The exterior of the homes are a mix of traditional elevations and bungalow/craftsman elevations with color schemes that adhere to the conservation theme.   When you purchase a home with Cotton States Properties, you are given the opportunity to work with our professional decorator to customize your new home.  The homes are great quality with distinctive detailing such as maple cabinets, granite countertops, site finished hardwood Floors, upgraded trim packages, iron balusters and stainless steel appliances.   Not only are the details exquisite, but the quality starts from the floor up with engineered floor systems, energy efficient wraps and seal insulation to make sure you are purchasing an energy efficient home.   After multiple inspections and tests, the final homes are given a HERS energy rating to certify the home's efficiency. (HERS score is the new federal method of rating a home's energy efficiencies.)
Bottom line….Cotton States Properties build each and every home as if it was their own home with the best products, methods and designs.  A home you can be proud of now and for many years to come.
Homes priced from the high $300s to mid $600s.
Need more info?  Visit us online or contact us at Office: 770.889.6090 or Tamara Stout: 678.360.2720
Come live the life you deserve at Sutter's Pond!