There's no question that Covid19 has put a huge damper on the family outings and activities.  Here are some fun ways to get outdoors with the family and still practice safe social distancing.
Walking or biking while social distancing.  Even babies and toddlers love getting outdoors and the fresh air is not only good for adults, but kids as well.   Utilize a child bicycle trailer or stroller for the little family members that can't ride bikes or walk.  While walking or riding, talk about nature with your children.  It's a great opportunity to educate them and for you to get some exercise.
 Organize a nature scavenger hunt.  Hunt for plants, trees, rocks, acorns, leaves.  You can even cut the kids lose with cell phones to collect pictures of different types of animals and birds.  The kids can check off the list you've created of the items they've found or the pictures they've taken  Make it fun for the entire family!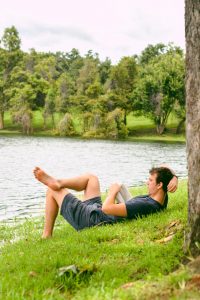 Grab some books, a shady spot and read to your kids outdoors.  Bring a couple of games.  It's the ideal way to bond with your family.
Let creativity run free by having the family create their own nature sculptures made out of rocks, leaves, twigs and flowers. Use clay or play doe as a base for the sculpture.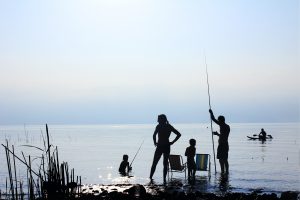 Fishing is an awesome way to get outdoors and engage the family in fun!  There are plenty of recreational areas to enjoy while maintaining social distancing.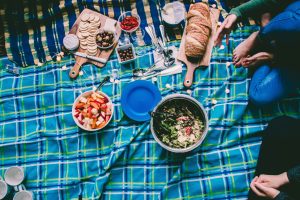 Have an international picnic in your own backyard.  Imagine the whole family in the kitchen cooking some fun international dishes that can be packed up in containers and taken outside.  Throw a blanket down and put a few decorations down for each country represented in your international picnic.  While you eat, engage the kids in conversation about the culture and location of each country's dish.
Clearly this year has given us a curve ball, but with a little creativity, you can use not only nature, but even your own home to create fun and unique ways to bring the family together and keep them safe.