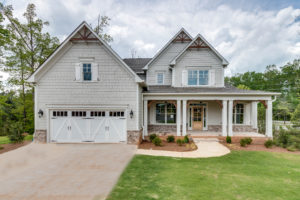 Here in the Metro Atlanta area there are numerous reasons for purchasing new construction.  Here are the Top 10 reasons why many homebuyers prefer to buy a new home as opposed to a resale home:
1) Choose the Designs YOU Prefer: Why settle for someone else's choices when you can choose what fits your tastes and desires including, countertops, appliances, lighting, carp flooring and more? Your new home will be a reflection of your tastes and style, not someone else's.
2) Choose a Floor Plan and Room Layout that Meets Your Needs: Whether you desire an open floor plan, owner's suite on the main floor, large outdoor living room, or guest room on the main floor, you have the ability to choose what the home's layout best fits your lifestyle and family.
3) All New, Under Warranty: With a resale home, you're likely to have large ticket items such as a roof, water heater, HVAC systems and more, that may need replacing in the near future. New construction not only gives you a home warranty, but also gives you piece of mind that it'll be years before you have to consider replacement on anything regarding your new home.
4) Energy and Cost Savings:  Your new home is far more energy efficient than homes built just 5, 10, 20 year ago. There's no need to settle for drafty, energy-wasting, single-pane windows with a resale home? New homes today offer double windows, high efficiency HVAC systems, water saving features and Energy Star Appliances. What does that mean for you, the NEW home owner?  Less money paid for utilities, more money left in your pocket.
5) Comfort and Indoor Air Quality: New homes of today meet stringent energy standards and codes not in place in the past. They combine high-performance energy efficiency with state-of-the-art ventilation and air filtration. The result is year-round, draft-free comfort and higher indoor air quality.
6) Low Maintenance: Technology today has brought us a more efficient way of living from computers to cars and New Homes Homes are the same. With cutting-edge building materials, new homes today require less care and maintenance. Best of all, today's latest building systems and components are designed and engineered to work together.
7) Community Amenities: Many new home communities offer a variety of amenities including hiking trails, lakes and ponds, lighted tennis courts, sparkling pools and more and are tucked away among superlative shopping, dining and high ranked schools.
8) Advanced Technology and Design: Replacing new single-pane windows, new insulation and even new pipes and plumbing with high performance materials and products can be extremely expensive to replace.  Even replacing these items may not give you the open floor plan or architectural attributes you desire which is one more reason to choose new construction over resale.
9) Safety: State-of-the-art circuit breakers. Electric garage door openers with infrared beams that stop if a tricycle or child is too near. High-efficiency furnaces and air conditioners that use the latest environmentally-friendly coolants. Cabinets, carpets and paints that use fewer volatile organic compounds, so that you and your family can breathe easier.
10) That New Home Feel: A resale home reflects the original choices of some one else, not yours. Your new home is a place the you and your family can create first time memories.  A place that lends a feeling that this haven really IS your new home with nobody else ever having lived in the home before you.
Cotton States offers the latest designs, style, comfort and quality. We provide a care-free lifestyle so that you can enjoy your home, not work on it. Stop one of our beautiful communities and find your new quality crafted home that you and your family can enjoy for years to come.