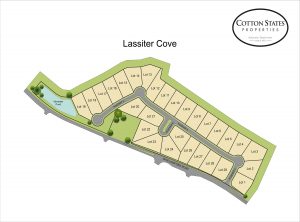 When it comes to finding your dream home, location is everything. That's why Lassiter Cove, Marietta's newest homes community, is quickly becoming the talk of the town. Nestled in the heart of East Cobb in Marietta, Georgia, Lassiter Cove offers an unparalleled living experience for those seeking a vibrant and thriving community. With its prime location, to notch schools and beautiful homes, Lassiter Cove is the perfect place to settle down and create lasting memories.
About Cotton States Properties – the developer behind Lassiter Cove
Behind every successful community is a reputable developer, and Lassiter Cove is no exception. Cotton States Properties, a renowned name in the real estate industry, is the mastermind behind this exceptional project. With a track record of delivering high-quality homes and communities, Cotton States Properties has earned the trust and admiration of homeowners across the area
Features and amenities of Lassiter Cove
Lassiter Cove leaves no stone unturned when it comes to providing its residents with an exceptional living experience. The community features beautifully landscaped grounds, meticulously designed to create a serene and inviting atmosphere. The homes themselves are a testament to modern architectural design, with spacious layouts, high-end finishes, and top-of-the-line appliances.
Location is often the deciding factor when choosing a new home, and Lassiter Cove couldn't be better situated. Nestled in the heart of Marietta, residents of Lassiter Cove have easy access to all that the area has to offer. From top-rated schools and shopping centers to fine dining and outdoor recreational activities, everything you need is just a stone's throw away.
For nature enthusiasts, the nearby Chattahoochee River and Kennesaw Mountain National Battlefield Park offer endless opportunities for outdoor adventures. And with downtown Atlanta just a short drive away, residents can enjoy all the amenities of a bustling city while still being able to retreat to the tranquility of Lassiter Cove.
.
The home options available in Lassiter Cove
One of the most exciting aspects of Lassiter Cove is the wide range of home options available. Whether you're a first-time homebuyer, a growing family, or an empty nester looking to downsize, there is a home that perfectly suits your needs.
Each home in Lassiter Cove is built with the highest level of craftsmanship and attention to detail. From the moment you step inside, you'll be greeted by luxurious finishes, open-concept layouts, and an abundance of natural light. The homes are thoughtfully designed to maximize comfort and functionality, ensuring that every square foot is utilized to its full potential.
Why Lassiter Cove is the perfect place to find your dream home
In conclusion, Lassiter Cove is more than just a new homes community – it's a place where dreams come true. With its prime location, top rated schools, and beautifully designed homes, Lassiter Cove offers the perfect balance between modern living and small-town charm. Whether you're starting a family, looking to downsize, or simply searching for a place to call home, Lassiter Cove has everything you need to create a lifetime of memories.
So why wait? Make your dream home a reality and explore the latest offerings in Marietta's newest homes community. Contact us today to learn more about the available homes in Lassiter Cove and start your journey towards a life of comfort, convenience, and community.